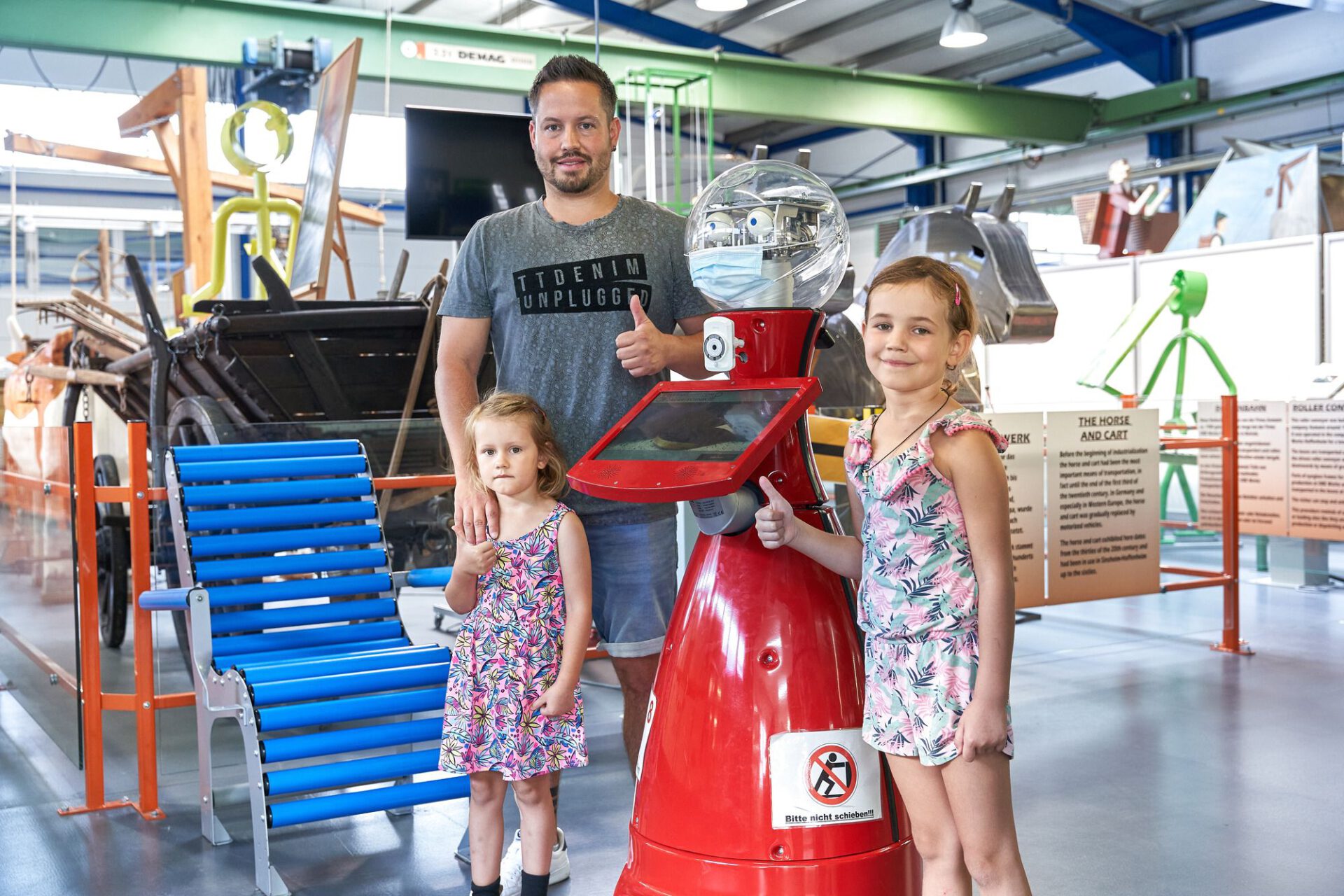 Family & Kids – Your exciting family day at the museum
The weekend is coming or a vacation in the south of Germany in Baden-Württemberg is planned? Are you looking for an exciting excursion destination for your family? Visit our Fördertechnik Museum with your children and get excited about science and technology during your excursion. And if your children really want to let off steam, we invite them to our varied indoor playground, where fun and action are guaranteed. Come by and experience beautiful moments with us during your vacation or weekend in Baden-Württemberg – we look forward to your visit!
Always worth a trip – the Fördertechnik Museum for the whole family
Our museum in Sinsheim, Baden-Württemberg, vividly presents the world of materials handling technology to both adults and children and encourages enthusiasm for science and technology. For example, almost all of the equipment can be put into operation via pushbuttons or with the help of one's own muscle power, making it easy to see how it works and how it functions. By trying things out and exploring them together, the Fördertechnik Museum creates a space for families to acquire new knowledge.
Together with their children, each family can gain their own experience on a tour of the museum, be guided by the museum robot "Nobby" and have the individual exhibits explained to them. Are you interested in a booked guided tour? Contact us and let a museum employee explain the technical and scientific background.
Attached to the Fördertechnik Museum is an indoor playground for letting off steam, two workshops for tinkering and building, and a bistro for relaxing and enjoying – the ideal excursion destination for families with children in Baden-Württemberg with fun for young and old.
Experience the best day of the year – children's birthday party at the Fördertechnik Museum.
Are you looking for a suitable location for a child's birthday party? In our Fördertechnik Museum, children can immerse themselves in the exciting world of technology and combine science with lots of fun.
The day starts with an exciting exploration tour through the exhibition halls, during which our charming museum robot "Nobby" guides through the exhibits with his lovable manner and explains everything. Afterwards, the children can let out their pent-up energy in our indoor play hall. In addition, a joint excursion to our racing car park ensures lots of fun and action.
Of course, a festively decorated birthday table, which we provide for adults and children, should not be missing from a successful birthday party. Are you interested in celebrating a child's birthday with us? Here you can learn more about it and contact us directly!
In materials handling, general cargo is the term used to describe all items that can be viewed as a unit during conveying, regardless of their shape or weight.