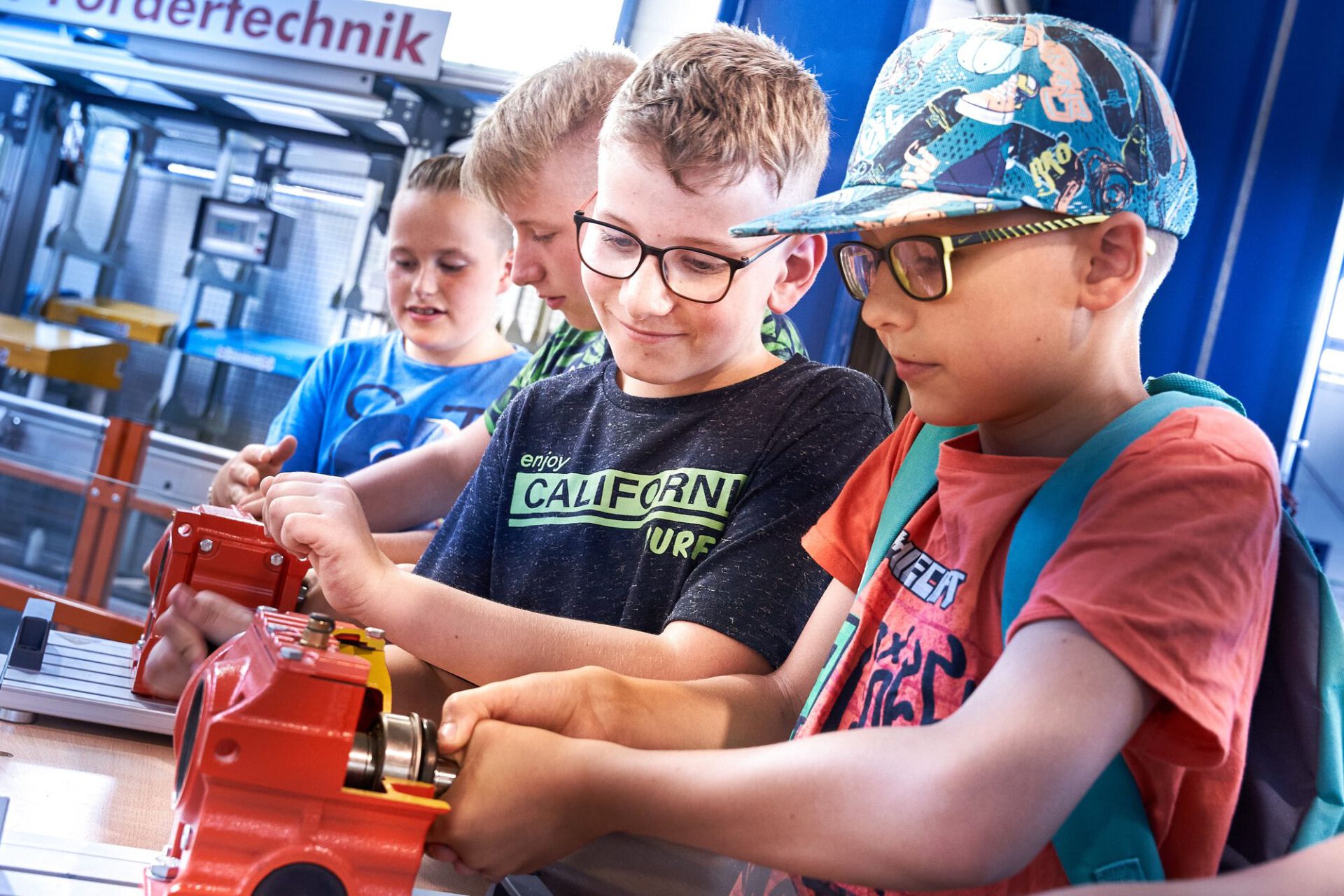 For school and university – exciting field trip to the museum
In schools, students have optimal conditions to acquire knowledge and skills. In addition, an extracurricular learning venue is perfect for broadening horizons and promoting motivation for education and careers. With its numerous exhibits, experiments and explanations by trained staff, our Fördertechnik Museum offers ideal opportunities for an educational and varied school trip. Are you interested? Feel free to send us an inquiry and visit our museum.
Fördertechnik Museum promotes enthusiasm for technology
The Fördertechnik Museum aims to get kindergarten children and schoolchildren interested in technology at an early age and to promote action-oriented work in projects. In this way, the museum can make an important contribution to career orientation and increase the chances of training qualified skilled workers and engineers. Through the three areas of exhibition, workshop and indoor play hall, different areas of interest of the pupils are taken up and addressed in a technical context.
Experience conveyor technology up close
A visit with the school class is worthwhile in many respects. In addition to the exhibition area and the indoor play hall, the seminar room is available to school classes as a place to stay or train. On request, the open workshop can be opened for classes to build their own projects from "fischertechnik" parts. As part of a guided tour, pupils experience conveyor technology at first hand.
Various sub-areas of classical mechanics can be illuminated during guided tours and clarified at different levels using the exhibits.
Study projects in cooperation with the Fördertechnik Museum
In addition to school classes, we also invite study groups from universities and colleges to visit us. We are in close contact with regional universities and offer the possibility of carrying out student research projects in cooperation with the Fördertechnik Museum.
Our Fördertechnik Museum is located in Sinsheim, Baden-Württemberg, and is easily accessible on the A6 motorway. A former factory hall houses the fully functional conveyor systems, which become an experience at the push of a button. The museum interacts with educational institutions from kindergarten to university and thus not only functions as an extracurricular place of learning, but also receives scientific support (e.g. doctoral studies).
Lectures, vernissages, a bistro, the children's inventors' circle and a specially designed indoor play hall open up further opportunities for interaction and exchange during the school trip.
Would you like more information? Simply contact us – we look forward to your inquiry.